Conference Report
Build-up game with Europeans set for March! High hopes for strengthening the WBSC Premier 12 Team
1/19/2015

"Jan 19 - A press conference concerning Samurai Japan's Build-up Game 2015 was held in a Tokyo city hotel.
It was announced that Samurai Japan will be facing off against Europe in a pair of build-up matches at Tokyo Dome on March 10th and 11th of this year. WBSC President Riccardo Fraccari, Nippon Baseball Association President Katsuhiko Kumazaki, and Samurai Japan Manager Hiroki Kokubo were present at the conference.
Mr. Kumazaki had this to say about the build-up game against the European players. "Recently, baseball has become very active in Europe. The Netherlands and Italy are scheduled to participate in the Premier 12 held this November, so I feel that having a build-up game like this with European players is pretty meaningful."
Mr. Fraccari also seemed to feel the great import for European players to play against Japan in these games. "I'd like Japan to play a big role in the 'globalization of baseball.' There might be a day when Japan's opening games are held in Europe. I truly hope Japan will spread baseball to the world."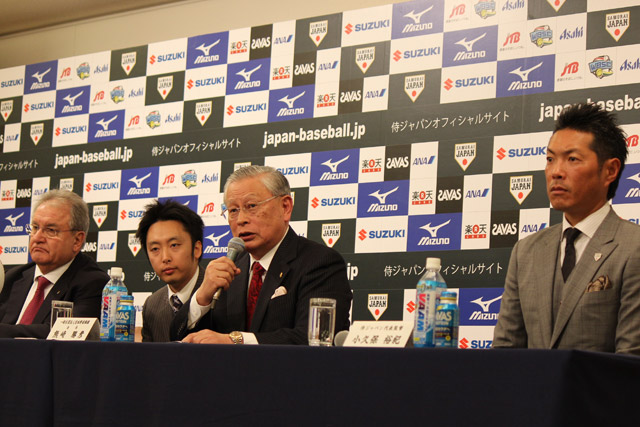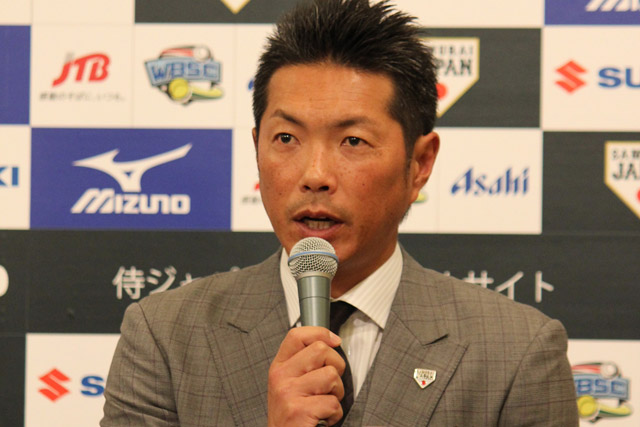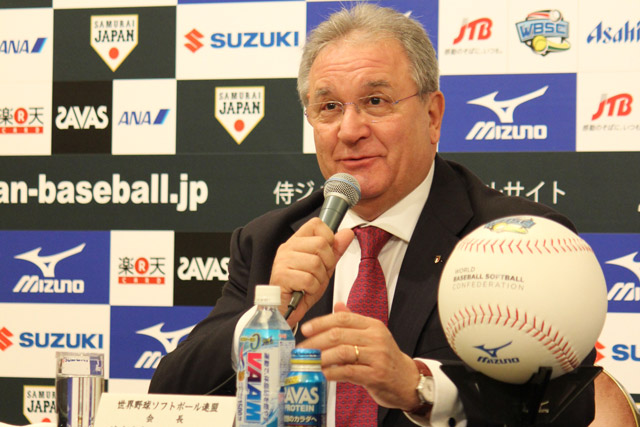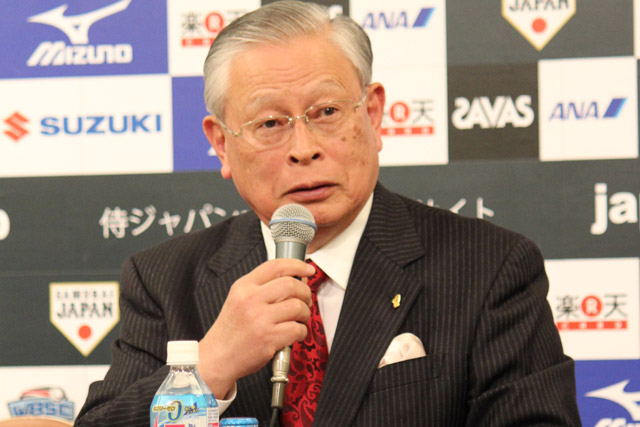 Leading Samurai Japan's top team as manager and carrying a great deal of expectation on his back, Mr. Kokubo expressed his enthusiasm for the game, saying "I'm grateful that we have the opportunity to face a top team not only in November in the US-Japan Game but also early in March. Considering the WBSC Premier 12 coming up, I think this game with the Europeans, feeling each other out, will be an important game. This is the season for exhibition games in pro baseball right now, but I'd like to see the younger players take the lead."
After the press conference, Mr. Kumazaki touched on the role Japan baseball should play in the world. "I would like the European players to not only notice the way Samurai Japan plays baseball, but also Japan's facilities and environment. And also pay attention to the marketing and know-how. If each country could share these kinds of things, I'd like to think that the gains from build-up games would lead to further developments in baseball."
This game between the rapidly-developing European baseball squad and Samurai Japan should turn out to be a significant bridge for the two teams and for the globalization of baseball in general.
Event Overview Samurai Japan Build-up Game 2015 "Samurai Japan vs. Europe"
Latest Article