SAMURAI JAPAN Interview
Interview with WBSC President Fraccari - Hopes for World Baseball's No. 1 Team, Japan
1/20/2015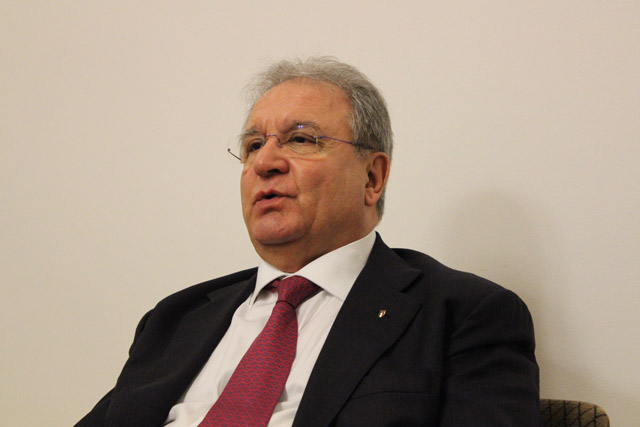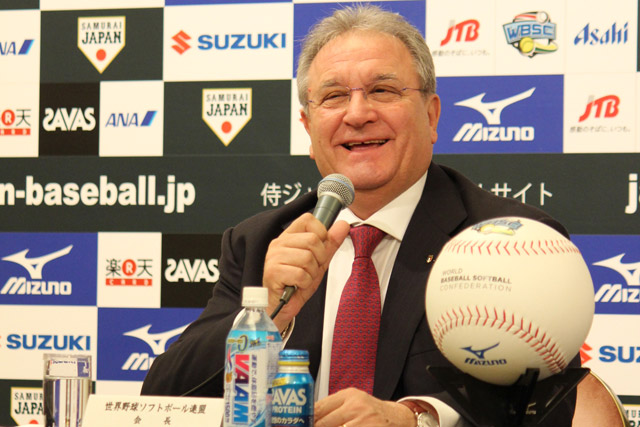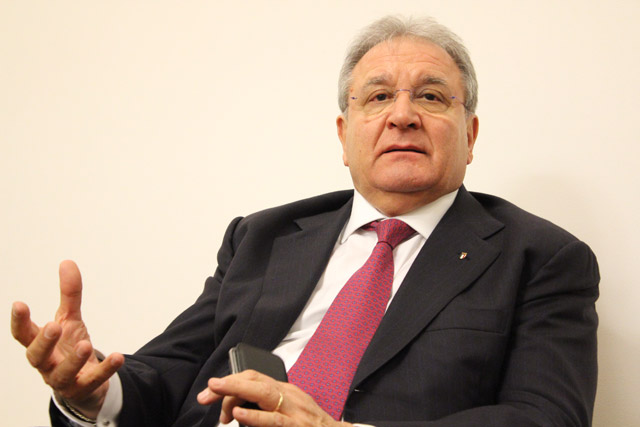 On January 19th a press conference for the WBSC Premier 12 was held at a Tokyo hotel hosted by the WBSC (World Baseball Softball Confederation). There we asked the president of the World Baseball Softball Confederation, Mr. Riccardo Fraccari for a summary of the tournament, the prospects for the further globalization of baseball and etc.
――Today there was a press conference on the Premier 12 tournament. First of all, please tell us what kind of tournament it will be.
At present the WBC takes place every four years. We received calls for high level tournaments to be held more frequently and the Premier 12 is a reflection of that. In this way, a high level tournament can be held every two years.
――When it comes to world baseball tournaments, most fans will probably think of the WBC. What is special about the Premier 12 tournament?
One important theme of this tournament is that we are striving for the internationalization of baseball. The participating teams are chosen in a distinct way. Based on the WBSC world baseball rankings, the top twelve teams will participate. These WBSC world baseball rankings come from results from all categories of teams in a nation, including the top national team and the underage team as well. They also reflect results of the competition for points in WBSC officially recognized events. Because of that they reflect the strength in baseball of a given country. That is to say, the teams chosen in this way will be exceptionally strong and will be the best national teams in baseball.
Samurai Japan is ranked number 1 in the world and there is a reason for that. Their underage team has gotten good results in international tournaments and the top national team performed in the WBC. These things combined have given Japan the number 1 position in the world rankings.
――At the press conference it was announced at the same time that the opponents in Samurai Japan's warm up games would be the European representative players. I think this represents an upsurge in globalization that we haven't seen before. What is your thinking on that?
Through NPB and Samurai Japan activities, one aspect of Japanese baseball is that it contributes to the promotion of world baseball, and that includes Asia. Also, the more we increase international experiments the more good will come of it for the Japanese baseball world. In the past there wasn't much recognition of NPB and Samurai Japan within Japan or in Asia. With the good results Samurai Japan has gotten the awareness has increased and that has become a big plus for the Japanese baseball world and I think that has created a great synergy.
――As the first host country, what can Japan expect from the Premier 12?
Of course, at the grounds you can obviously expect very high level games. From the opposite viewpoint, I am very much looking forward to the fans coming to enjoy this type of competition. In that way, you can also expect the Premier 12 to be very lively.
――What are issues that you yourself, Mr. Fraccari, are thinking about for the further globalization of baseball?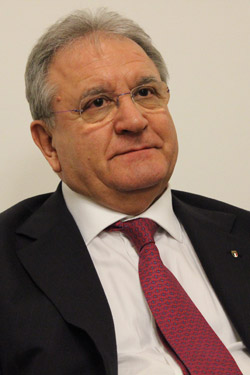 Compared to the past I feel the situation has gotten better. Up until now the world of baseball has been extremely fragmented and it has been a situation in which everyone was going in a different direction. Now, however, because we have expressed a global vision, we have been able to come to grips with various issues and have all begun to move in the same direction. The Premier 12 is a case in point. The amount of support for events as WBSC recognized tournaments has increased so we are cooperating together under the same vision and are making progress in a common direction. I think this is a very important issue for the future globalization of baseball.
――What efforts are you putting into practice now and what will you do in the future to spread baseball around the globe?
In the past when it came to international tournaments, there was only the top national team and U18 events, so there were few categories. Now, however, there are U12, 15, 18, 21 as well as women's tournaments. If there is a stage for each age group to compete on the world level, then children will make that a goal. All over the world we have created tournaments that enable youngsters to think, "That tournament is my goal" and I think that is a great motivation for young baseball players. I think that is where baseball will move forward more and more in the future.
――Last of all, could you give us a message for young baseball players in Japan?
Yes. Baseball is a wonderful sport so definitely go to the stadiums and cheer for your teams. I think it would be great if we eventually create a situation where Japanese baseball, that is NPB and Samurai Japan games, for example, can be held in Asia and other foreign countries. I hope young baseball players participate as members of Samurai Japan or NPB where they will bathe in the world spotlight.
In a fight among the world's 12 best baseball countries, Japan looks to become world champion in the "WBSC Premier 12" set for November!
"WBSC Premier 12 (provisional name)" - Event Overview
Build-up game with Europeans set for March! High hopes for strengthening the WBSC Premier 12 Team
Samurai Japan Build-up Game 2015 "Samurai Japan vs. Europe" - Event Overview
Latest Article